The Gladiator: The Ultimate Skid Steer Forestry Cutter
Looking for a skid steer forestry cutter that can handle the most challenging brush and trees? Look no further than the Gladiator! This formidable machine is designed to take on anything in its path, making light work of the most resistant vegetation. Whether you're confronted with overgrowth, on-site prep, or disaster clean-up, this hydraulic brush cutter for skid steers can do it all.
The Gladiator has a 1″ thick blade carrier with carbide-tipped mulching teeth, which means it can quickly chop through dense brush and vegetation. The Gladiator's rugged carbide-tipped mulching teeth allow it to grind stumps down efficiently with time to spare.
The extra vine cutters above the blade carrier safeguard the driveshaft from harm while you operate. We also use a visible pressure gauge to measure the amount of strain placed on the skid steer forestry cutter. This helps ensure that the operator runs the hydraulic brush cutter at peak efficiency and does not cause excessive damage as they work.
With its powerful hydraulics and rugged construction, the Gladiator is built for heavy-duty clearing applications. So if you're looking for a skid steer forestry cutter that can get the job done, trust the Gladiator from Rut Manufacturing to give you the highest quality skid steer brush cutter for sale.
Want to know more about the Gladiator? Don't worry. We're here to answer your questions about this fantastic skid steer brush cutter!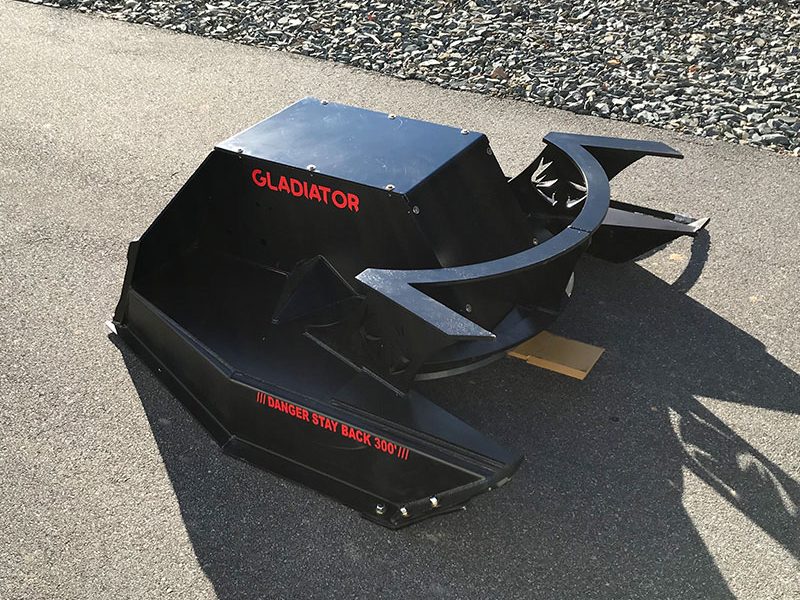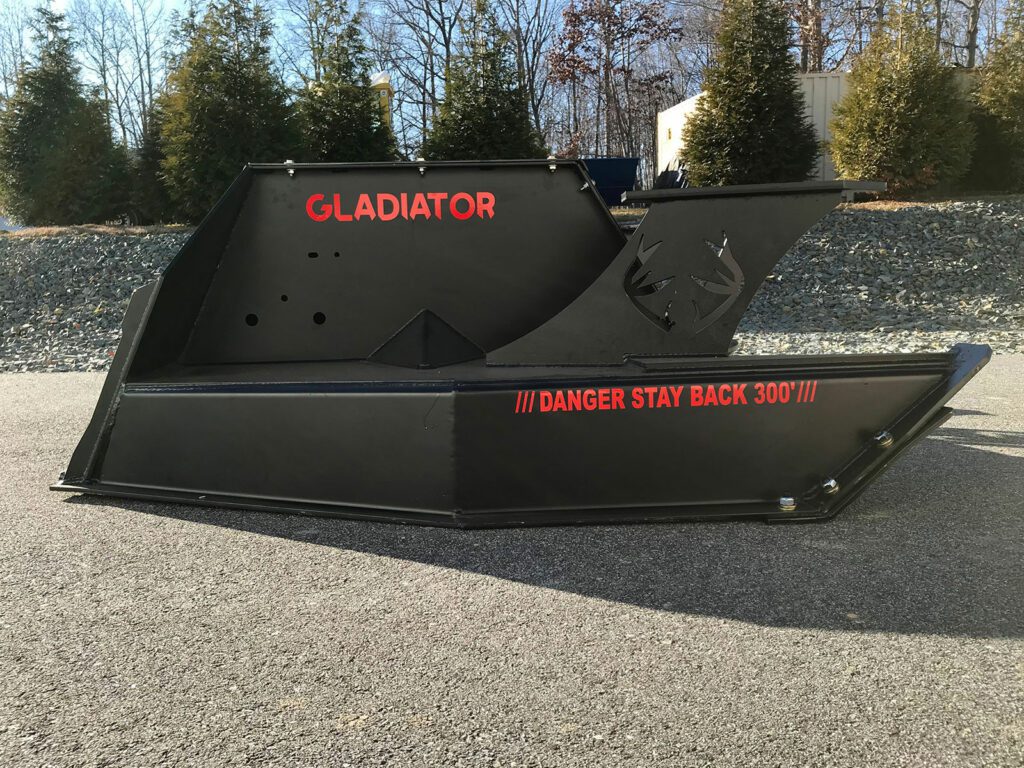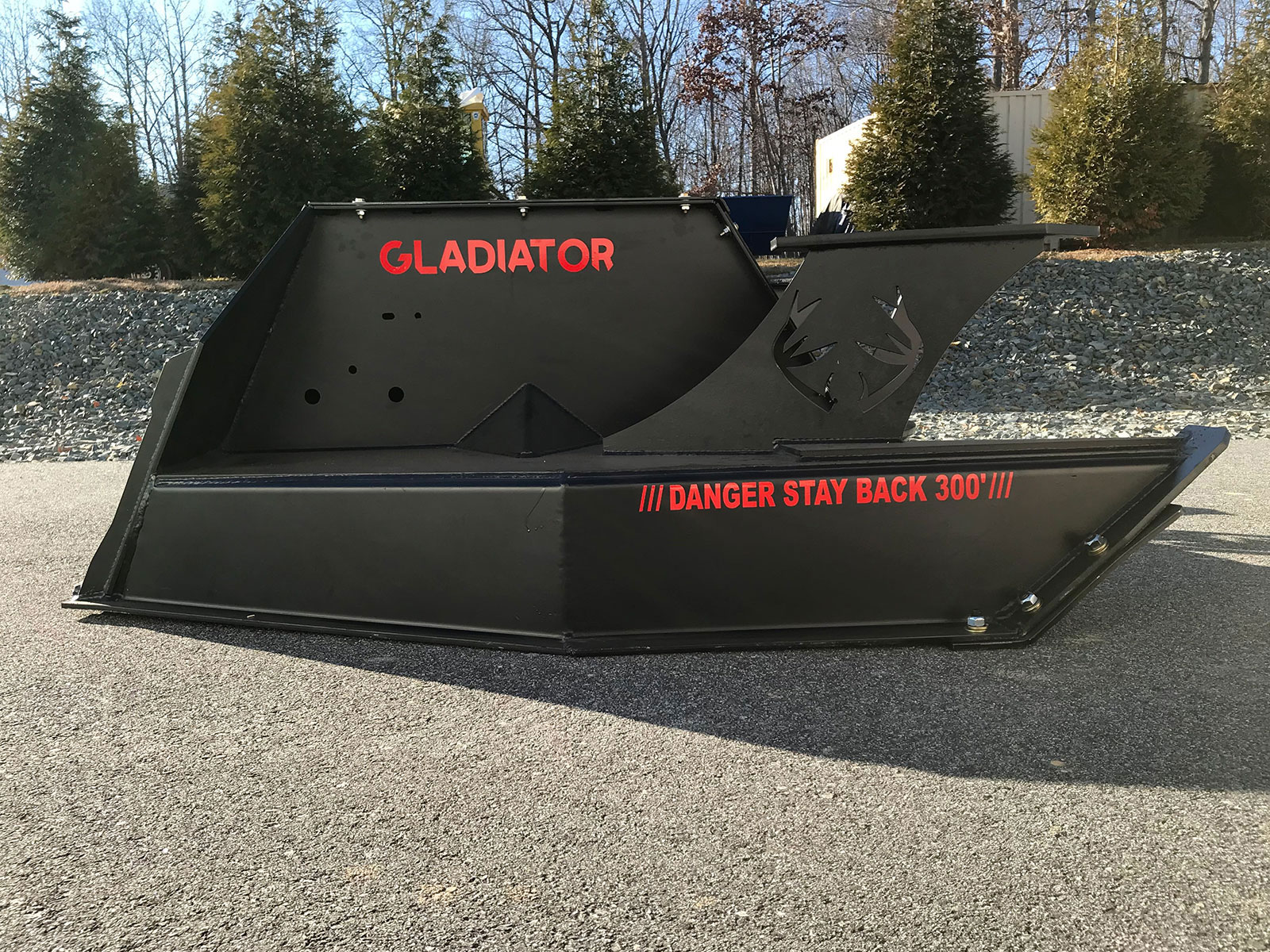 Skid Steer Forestry Cutter Features
The Gladiator skid steer attachment has several features that set it apart from the competition. Our unique design, plating, and deck support are intended to complete work as quickly as possible.
The following are some of the Gladiator's characteristics:
The Gladiator forestry mulcher is built to last with a 1-year warranty, which covers your skid steer forestry cutter from accidental damage or mishaps on the job. A case drain is necessary during operation when utilizing the skid steer brush cutter attachment.
This skid steer brush cutter for sale is a must-have in your equipment arsenal due to its unique features, revolutionary design, and skid steer's outstanding durability.
Want to know more about the Gladiator? Check out our free resource!
How to Use a Skid Steer Forestry Cutter: The Gladiator in Action
Verify that your Gladiator Brush Cutter is compatible with your skid steer's size, shape, and hydraulic flow rate. Rut Manufacturing's customization procedure will ensure you get a perfect match for your skid steer.
Examine the surrounding area. Engage your attachment only if you're in a location where debris will not harm others.
Attach the tree cutter's coupler to your device. Rut Manufacturing's attachments are quick-attach compatible; if required, we can make a coupler that fits your machine. It's time to get down to business once the attachment is secure!
Reminder: A case drain is required while using the forestry brush cutter.
Applications for the Gladiator Hydraulic Brush Cutter
The Gladiator skid steer brush cutter is an excellent choice for a wide range of projects and applications, including:
The Gladiator is NOT recommended for:
The Gladiator's power is unrivaled in its efficiency in leveling trees, stumps, or brush. Made-in-the-USA skid steer attachments from Rut Manufacturing are designed and produced with the most incredible attention to detail to help you be more productive while lessening the stress of your workday.
How Much Is a Skid Steer Forestry Cutter?
The price of a skid steer brush cutter varies based on the size, weight, and cutting capacity of your brush cutter. Some brush cutters have three blades, while others have four or more. The more blades there are, the better you'll be able to cut through native grasses and dense shrubs; however, this may raise the overall cost.
You also must invest in disc mulcher attachments that complement your machine's design and hydraulic flow rate. A larger skid steer brush cutter model necessitates a more substantial attachment, increasing the price by a few hundred to a thousand dollars. However, consuming brush and performing more complex tasks is more accessible thanks to high-flow machines.
The most crucial aspect influencing skid steer mulchers' pricing is additional features, such as mulching teeth or reinforced deck sides. These enhance your productivity, which is quite advantageous but takes more time to put together and install in your attachment. Basic models will be cheaper, while more expensive brush cutters will occupy the market with different accessories and innovative designs.
Skid steer brush cutters range in price from around $4,000 to well over $10,000 on average. Larger models are more expensive than smaller to mid-range ones. The Gladiator comes in two different sizes (60″ or 72″) and a low or high flow rate option. Your selection will impact the overall price.
Consider how often you'll use the attachment when purchasing a skid steer brush cutter. If a brush cutter is part of your daily routine, spending more makes sense. However, if a brush cutter is used once every two weeks, buying a less expensive model is a sensible decision for your workload and money. Remember that the more machines you acquire, the more it will affect your wallet. It's essential to research and invest in a suitable hydraulic brush cutter for your needs.
Why Choose the Gladiator for a Skid Steer Forestry Cutter?
The Gladiator skid steer forestry cutter is the perfect tool for clearing brush and debris from your property. This hydraulic brush cutter attachment can handle even the most stubborn saplings and undergrowth with ease, making short work of any forestry clean-up project. The Gladiator is the ultimate choice if you're looking for a reliable skid steer brush cutter that will make light work of heavy brush.
There are many skid steer brush cutters for sale, but the Gladiator sets itself apart with its unique design and superior performance.
Here are just a few reasons why the Gladiator is the best skid steer forestry cutter available:
No matter what skid steer brush cutter model you're looking for, the Gladiator will exceed your expectations. The Gladiator is the perfect option if you're looking for the ultimate skid steer forestry cutter.
The experienced team at Rut is always ready to help you find the best skid steer brush cutter for sale. At Rut Manufacturing, we produce all of our equipment in the United States so that you can count on nothing less from our forestry mulchers. Contact us to learn more about our extraordinary products!