Excavator Brush Cutters and Skid Steer Brush Cutters
Building, Designing, Manufacturing & Selling Attachments in the Construction Industry
Check out our FALL SPECIAL!
Excavator Brush Cutters and Skid Steer Brush Cutters
Building, Designing, Manufacturing & Selling Attachments in the Construction Industry
Our Goal at Rut Manufacturing
TO ENHANCE YOUR EFFICIENCY, PRODUCTIVITY, AND PROFIT MARGIN WITH INDUSTRY-LEADING EQUIPMENT.
At Rut Manufacturing, we have a comprehensive background in designing, manufacturing, and selling attachments in the construction industry. Our years of experience give us the unique ability to analyze what products and processes can optimize your workload. Now, our team's goal is to design innovative products that transform your job performance.
Whether you're in the landscaping or construction business, or operate a side hustle on the weekends, your profit margin matters. By manufacturing and selling our own innovative products, you end up buying high-quality products straight from the source, saving you money in the long run.
Switching between pieces of equipment on the job isn't just inconvenient – it wastes your valuable work time. With Rut Manufacturing's diverse skid steer and excavator attachments, you get more done in less time.
At Rut Manufacturing, we understand that no two jobs are the same. However, that shouldn't mean that you need more than one or two attachments to get things done. That's why we design our versatile attachments to optimize your workload, so you can get more done in less time.
YOUR SUCCESS IS OUR PASSION
I have been using Rut products since 2017 and I am more than happy with the quality of service and the products. Every time I call Ira he immediately hooks me up with what I need. I 100% stand behind my testimony of these guys!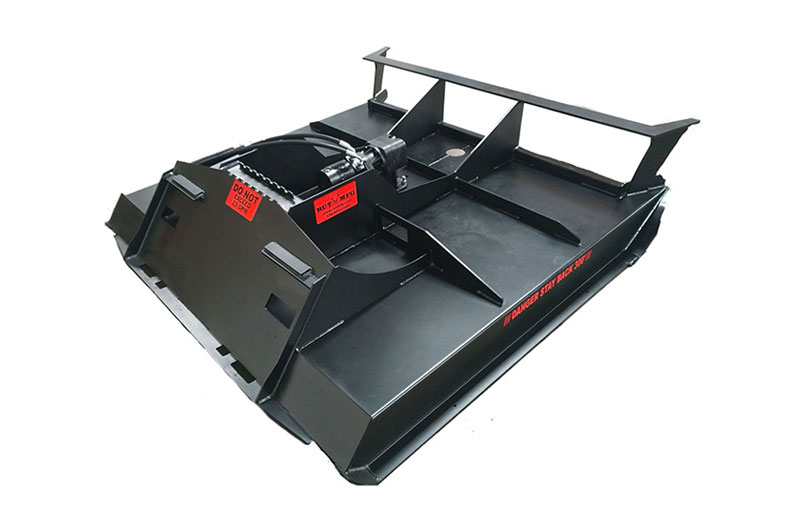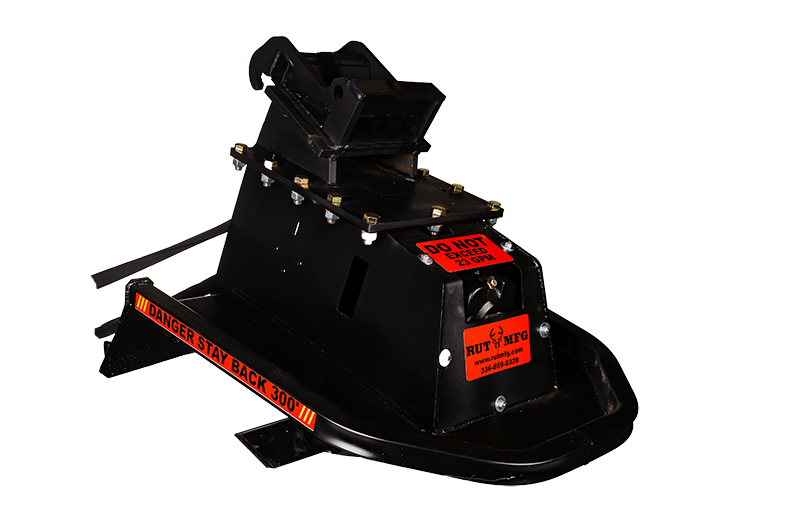 I have a 36″ Brush Eliminator on a mini ex. I am pleased with the performance, ease of use and low maintenance. The Brush Eliminator has done everything Rut has claimed it would do. I've operated dedicated heavy/clearing equipment all the way down to chain and brush saws for a pipeline company. For my personal use I'm very pleased with Rut Mfg and the Brush Eliminator

I recently purchased a Terminator XP 78″ to put on my Bobcat T300. Before I made the purchase I called and talked with someone to ask all the questions I had. He answered all my questions and took as much time as I needed. I've now had the machine for a few weeks and have put some hours on it. I couldn't be happier with the quality and customer service! I will soon be purchasing a disc mulcher from Rut to complement the Terminator XP. There are other good machines on the market but you will pay much, much more, and you won't beat the quality and service that Rut has!

SEE WHAT OUR CLIENTS ARE SAYING
I recently purchased a 78" Terminator XP for pasture clearing. I've used the unit on heavy brush with cedars and honey locust mixed in. This unit absolutely exceeds expectations. Several of the locust trees were close to 7" diameter at the trunk and if you have done much pasture work you know locust trees are some of the densest hardwood species you will come across. Unit is well constructed and Rut has chosen excellent materials to build a quality brushcutter. Another big plus is their customer service. I worked with Tony to get a unit lined and and he was most helpful and very responsive. I highly recommend the XP to anyone that needs land clearing done. Rut Manufacturing definitely exceeds the bar and recommend them as a top choice in attachments
Ordered a 72" Brush Cutter and figured I would get it in about a month. It came 2 weeks early (who gets anything early these days)! Love it. It's paired for my S205's flow rate and does a great job. Took it out and hit about 2 acres. Areas were a mix of tall grass, blackberry brambles, and general brush. It' handled everything I threw at it with ease. Took out some small trees and just chewed them up. I was able to get much closer to a fence row than I thought I would too. Really impressed so far. The only thing they missed on was the free t-shirt. (you can see it in the center picture) It's a little small for me, but my wife likes it. I guess they figured everyone should get something out of the deal. 🙂
Heck if a good company. Ordered a brush cutter over the holidays and it shipped Jan 3rd!
Dusty Wooldridge
2022-01-12
RUT Mfg produced a great product. I have cut several trees and cleaned alot of our creek banks with it. I highly recommend their product and great customer support!
Patrick Kittman
2021-12-15
I purchased a terminator XP brush cutter, I am very pleased with it.They are heavy duty!!!
casey blackwelder
2021-12-15
Staff has always been welcoming and accommodating in my time of need. Even when helping with parts for a competitor's equipment. Will be purchasing more equipment soon.
I have been very pleased with my rut terminator brush cutter, it has taken a beating and held up great!
Michael Younts
2021-12-15
It's a great place with nice folks. The hard work and care that goes into each cutter is astounding.